Jerry Andrus Linking Pins and Andrus Book, In addition to a First Rate Condition of the Andrus Linking Pins is the 1955 Book written by Jerry Andrus entitled "Safety Pin-Trix", numbering 70 pages with illustrations. For more about this and many other goodies visit our Apparatus Auction page.


Lights Out Comedy Comedy Candle - Great Britian, Stand is of brass metal and all made by Yimka and hallmark stamped. This was a comedy effect by Tom Sellers and the original idea was to take a lit candle in its stand and use it to catch fire to an envelope or light a cigarette and candle lifts up and turns a 180 degree revolution and snuffs itself out! For more about this and many other goodies visit our Apparatus Auction page.


Circa 1920's Will Goldston's More Exclusive Magical Secrets, This was the Trade Edition of the Famous Locked Books Series. Circa mid 1920's, Limited Numbered Edition, cloth bound, 490 pages with Index and full of illustrations. Headings include *Pocket Tricks *Small Apparatus Tricks *Anti-Spiritualistic Tricks *Platform and Stage Tricks *Elaborate Stage Tricks *Chinese Tricks *Valuable Tips and Advice *Comedy Tricks and a section on *Illusions. For me personally this issue of the Exclusive Series was more difficult to acquire. For more about this and many other goodies visit our Auction Books and Periodicals page.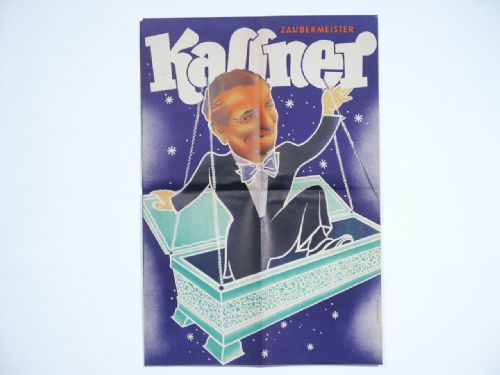 Original Zaubermeister Kassner, Original Zaubermeister Kassner. Unmounted, 16 1/4" x 23 5/8" in very fine condition. For more about this and many other goodies visit our Auction Memorabilia, Ephemera and Posters page.


Circa 1900 Production Of Cage and Birds-Very Scarce-European, This antique may be found described in the 1909 book The Art Of Modern Conjuring which also includes a photo. A large cylinder is shown and the lid is taken off and the inside, quite empty, is well displayed, even handed for inspection. The lid is put on, a pistol fired, the cylinder opened again, and a large cage containing three or four live birds are produced from it. Cylinder measures 12 5/8" long with a diameter of 7" having a handle and made of metal. The end has a handle for ease of removal of lid. Includes instructions from the 1909 book The Art Of Modern Conjuring. A very scarce true antique of magic from Europe. For more about this visit our Auction page.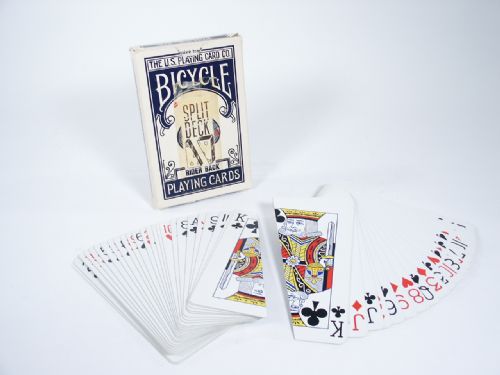 Jumbo Split Deck Haskell - Early Quality, This is one of the original early card stock when the cards were made the way they should be. This is a totally different card effect where the special deck is cut diagonally which in fact creates interest to the audience. Two spectators each select a half a card and the climax comes when both halves are placed together they form a complete same card! Card this is made to force is the 10 of Clubs. For more about this visit our Auction page.


Ken Brooke Conway Cigarette Case, Ken Brooke's reputation for handling only worthwhile workable magic effects carries on long after his death and this is no exception. The Conway Cigarette Case will allow for many effects possible as it will vanish switch or produce any small flat object. This is a cigarette case method of switching a card and an invention of the late Bert Allerton one of the great close up magicians. Includes 8 pages of routining including the Card in Chewing Gum effect. For more about this visit our Auction page.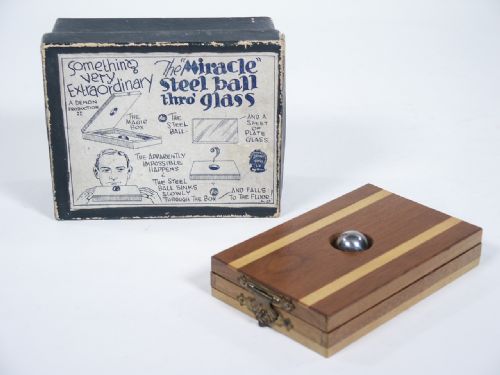 Miracle Steel Ball Thro Glass Great Britain in Original Box, Early Davenport's. A beautiful wood box with inlays containing a piece of glass which blocks the hole dead center. A steel ball bearing is placed in the uppermost hole and it penetrates the glass and drops out the bottom hole. For more about this visit our Auction page.

**KT Magic Auction Alert**
Click here to join our mailing list and receive Auction, Shop and Sales updates.

Or use the QR code to join our mail list.

***The Next Auction coming soon!*** No Buyer's Premiums Charged! Enjoy the Auction!
www.ktmagic.com/auction/
The collection these items are from is quite varied in scope and somewhat sizable in volume with European origins. Within this auction you will find a good many items, some the likes of which you may not have seen before.
In the coming months this collection will continue to be auctioned. Give yourself plenty of time for all we will have to offer!
www.ktmagic.com/auction/
No Buyer's Premiums Charged! Enjoy the Auction!
This is a standard auction format with no proxy bidding which means the bid you enter is what will automatically show and be taken as what you are going to pay if you win the item. The system also allows for you to increase your bid amount if this is a bidding method you wish to use. This process is also helpful in reaching a reserve amount. Shipping/Insurance charges are in addition to winning bid amounts. What you will not have at the end of the auction is the addition of Buyer's Premiums that can range from 15% to 25% and more.

www.ktmagic.com/Auction/

Please tell your friends. Good luck in your bidding and enjoy the Auctions! As always, with KT Magic Auction, all items are in house and personally handled so you may bid with confidence. With KT Magic No Buyers Premiums are Charged!
Happy Bidding! Kenna
---
I would like to bring my work I have been doing on gathering information on the Taytelbaum book to a close. So I ask that if anyone has been holding back to please make that call and contact me with what you have. If you have any props you think I might be interested in, please let me know as I am ready to purchase!



Welcome to KT Magic! We are a business for Quality Pre-Owned Conjuring Apparatus, Books and anything pertaining to Magic. Auctions, Collecting, Buying and Selling anything pertaining to magic. We offer monthly auctions so please check in often and you may register for our auction to receive notices or subscribe to our mailing list. KT Magic Auction We accept all major credit cards, paypal, checks and money orders. On occasion we will have items for sale which we feel are of merit. Special List In most cases, the magic, books, posters and other conjuring items we offer are one of a kind collectibles. Although we try to update this site daily as items are sold, there is always the possibility that an item will be gone when you order it from our special list. Your order will be confirmed by e-mail when it is received and if an item is not available you will be notified immediately. Please note: you will receive a response from us within 48 hours. If you do not hear from us please call (859) 689-7080. Thank you.
Visit our How To Order page for Special List ordering information. Auction Participation information is located under our Auction Membership page Link.